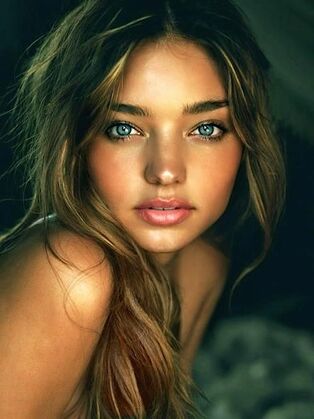 Miranda Kerr info:
FULL NAME: Miranda May Kerr
COUNTRY: Australia
DATE OF BIRTH: April 20, 1983
PLACE OF BIRTH: Sydney, Australia
EYES: Blue
HAIR: Brown
OCCUPATION: Supermodel
Bio:
Miranda May Kerr is an Australian model. Kerr rose to prominence in 2007 as one of the Victoria's Secret Angels. Kerr was the first Australian Victoria's Secret model and also represented the Australian department store chain David Jones. Kerr has launched her own brand of organic skincare products, KORA Organics, and has written a self-help book. Kerr began modelling in the fashion industry when she was 13, winning the 1997 Dolly magazine model search competition. Since 2008, Kerr has consistently ranked on the Forbes list of highest earning models.
At age 13, Kerr entered and won the 1997 annual Dolly magazine/Impulse model competition. She was flown to Sydney a week before her 14th birthday to shoot for the magazine and signed to Chic Management's Sydney division. She received considerable commercial exposure after a series of beachwear ads predominantly for Australian surf chain Billabong, in which Kerr modelled surf brands Tigerlily, Roxy, Billabong Girls, and One Teaspoon. This increased her profile in the Australian and Asian markets, after which Kerr relocated to New York where she became co-owner of the Bowery Ballroom. In New York, Kerr had a multitude of runway appearances and then signed with NEXT Model Management in early 2004. From there, she was booked for runway and print campaigns for labels, including Alex Perry, Baby Phat, Lisa Ho, Voodoo Dolls, Levi's, Bettina Liano, Nicola Finetti, L.A.M.B., Heatherette, Betsey Johnson, Trelise Cooper, Jets, John Richmond, Blumarine Swimwear, Neiman Marcus, Seafolly Swimwear, Anna Molinari, Rock and Republic, Roberto Cavalli, and Ober Jeans. Kerr was also booked for print in magazines such as Elle, Australian Vogue and Harper's Bazaar, and was featured in Australian television advertisements for clothing and hair-removal products. In early 2006, Kerr appeared on the TV show Project Runway, modelling clothes for contestant Daniel Vosovic's final collection. She signed a contract with cosmetics firm Maybelline New York. Along with several other Victoria's Secret and Next agency models, Kerr was also featured in a music video for the single "Number One" by artists Kanye West and Pharrell.
Following her success with Maybelline, Kerr became the first Australian model to be offered a contract with Victoria's Secret in 2007, replacing Gisele Bündchen. Upon her acceptance, she became the first ever Australian Victoria's Secret Angel joining the stable of models already signed to the lingerie giant, including Alessandra Ambrosio, Karolína Kurková, Adriana Lima, Selita Ebanks, Izabel Goulart, and Heidi Klum. Before becoming an Angel in 2007, Kerr was already picked to become the successor of Alessandra Ambrosio as the face of PINK in 2006. Kerr's popularity continued to increase as one of the globally recognised Angels when she appeared in the Victoria's Secret 2006, 2007, 2008 and 2009 televised runway shows, which aired on four continents. In 2007, Kerr signed on as the face of Californian fashion retailer Arden B. After debuting in their spring and summer ad campaigns, Kerr returned for their fall 2007 campaign, shot by fashion photographer Diego Uchitel. Following her modeling success with Victoria's Secret, Kerr made a small guest appearance in the CBS sitcom How I Met Your Mother alongside fellow Angels Adriana Lima, Marisa Miller, Alessandra Ambrosio, Heidi Klum and Selita Ebanks.
In 2008, Kerr became the new face of the fragrance Clinique Happy and signed a six-figure deal to be the new face of Australian department store David Jones, replacing model Megan Gale. She also graced the cover of British Harper's Bazaar.
In June 2009, Kerr posed naked, chained to a tree, for an issue of Rolling Stone Australia, to raise awareness for the endangered koalas. In August, Kerr released an inspirational self-esteem, self-help book, Treasure Yourself. Treasure Yourself is aimed at female teenagers. In October, Kerr launched her own brand of organic skincare products, KORA Organics, with George Moskos, and became the face for the company. Kerr also shot a spring/summer ad campaign for XOXO. Kerr appeared in Forbes 2009 list of the world's highest-paid models, ranking at No. 9 with estimated earnings of $3 million. She left NEXT Model Management and signed with IMG Models. She then ended the year walking in the annual Victoria's Secret Fashion Show.
Kerr appeared in the 2010 Pirelli Calendar, photographed by Terry Richardson in Bahia, Brazil. Previously better known for her Victoria's Secret status rather than her high fashion work, Balenciaga is credited for launching her high fashion modelling career when casting directors Ashley Brokaw and Nicolas Ghesquière chose her to walk exclusively for the brand's spring 2010 runway show. It was her first designer fashion show, aside from Victoria's Secret, since 2007. A season later she walked for design company Prada for their fall 2010 collection in Milan alongside fellow Angels Doutzen Kroes and Alessandra Ambrosio. Kerr then modelled for campaigns for Prada and Jil Sander, and was shot by Steven Meisel for the cover of Italian Vogue for September. She appeared on the Forbes 2010 list of the world's highest-paid models, ranking at No. 9 where she earned $4 million.
In January 2011, Kerr became the first pregnant model for Vogue when featured in Vogue Australia, being six months pregnant at the time of the shoot. In March she hit the catwalk for Balenciaga's fall 2011 ready-to-wear collection as part of Paris Fashion Week, two months after giving birth. Kerr also posed nude for a 2011 Harper's Bazaar photo shoot. In October at Paris Fashion Week SS12, Kerr walked for Dior, Lanvin, Chanel, John Galliano, Stella McCartney, Viktor & Rolf and Loewe. Kerr was chosen to present the $2.5 million Victoria's Secret Fantasy Treasure Bra for their fashion show in November 2011. Kerr then featured in the Spring 2012 campaign for Bally alongside Julia Stegner.
In January 2012, she was named ambassador for Qantas. In March, Kerr walked for Chanel and Miu Miu at Fall/Winter Paris Fashion Week. Kerr graced the June cover of Numéro Tokyo, shot by Nino Muñoz. In August, Kerr graced the cover of Vogue Turkey and in November, was named the new face of high street brand Mango, replacing Kate Moss for its spring/summer 2013 campaign.
In March 2013, negotiations to renew her five-year contract with David Jones "fell through," leading to a peaceful split between the two parties. The following month, it was reported that Kerr's three-year, $1-million contract with Victoria's Secret was not being renewed. Anonymous sources claimed Kerr had a "difficult reputation" and was not "a big seller for VS"; however, Kerr's camp stated she was unable to commit the necessary time to the brand. In response, Victoria's Secret chief marketing officer Ed Razek stated he had already invited Kerr to walk in that year's fashion show. Kerr graced the April issue of Vogue Australia and the July issue of Vogue Korea. In October, Kerr was named the face of Austrian crystal house Swarovski for their fall 2013 compaign, and that December she starred in social shopping website ShopStyle's first national campaign. In February 2014, Kerr replaced Gisele Bündchen as the face of Swedish clothing brand H&M. She then featured in high-profile campaigns for Reebok and Wonderbra. In March, Kerr opened and closed for Sonia Rykiel at Fall/Winter Paris Fashion Week. In July, Kerr became the face of the Escada fragrance, Joyful, attending the launch at the brand's flagship Munich store. Kerr graced the covers of the May issue of Vogue Taiwan and the July issue of Vogue Australia. She was among the 50 models on the September cover of Vogue Italia, celebrating the magazine's 50th anniversary. She also graced the November, 15th anniversary issue of Vogue Japan, shot by Mario Testino.
Kerr graced the cover of the February 2015 issue of American Harper's Bazaar, shot by Richardson. She also covered the March issue of Australian Harper's Bazaar, shot by Kai Z Feng. In July, Kerr designed a jewelry line with Swarovski, having served as the face of the brand since 2013. Kerr spoke of the collaboration, "I wanted it to be reflective of myself and my personality and who I am. And [Swarovski] really let me have full creative control. I knew what I wanted. I wanted it to be fine, and delicate and have meaning, and hopefully, inspiration." She then graced the December cover of Vogue Thailand, the first Australian model to do so. She was also shot by Doug Inglish in a short video as part of LOVE's annual advent calendar.
Kerr began 2016 fronting Riccardo Tisci's Spring/Summer campaign for Givenchy, alongside models including Joan Smalls, Natalia Vodianova and fellow Australian, Gemma Ward. Her January/February cover for Australian Harper's Bazaar sparked controversy, depicting a nude Kerr under the coverline "What Lies Beneath". The cover was later pulled from national supermarket chain, Coles. In March, Kerr was announced as the face of Joe Fresh's fall campaign. She also featured on international covers of Elle, Harper's Bazaar, Madame Figaro and L'Officiel. In June, she opened Jeremy Scott's Resort 2017 show for Moschino, alongside veteran models including Devon Aoki and fellow Victoria's Secret Angels Chanel Iman and Alessandra Ambrosio. The same month, Kerr filmed a guest mentor role on cycle 10 of Australia's Next Top Model. Kerr ranked No. 10 on the 2016 Forbes list of highest paid models, earning an estimated $6 million.
In February 2017, Kerr featured in a commercial for Buick, alongside Cam Newton, which aired during Superbowl LI.
Kerr's model trademark is her dimples. Celebrity photographer Russell James stated: '' The US has fallen in love with her. We love her because she has the most incredible girl-next-door look and she's also insanely beautiful. It means women are not intimidated by her looks and guys think they might be able to talk to her. It's a fantastic combination ... people want to be around her; she's fun on a shoot … and she's not stupid, which can be a very annoying trait among some models''.
Model agent Ursula Hufnagl described Kerr as "the perfect endorsement", citing her ability to "truly sell a product".
Campaigns:
Arden B., Bally, Biolage, Bonds, Clear Haircare, Clinique 'Happy' fragrance, Coming Step, David Jones, Dynamite, Escada, Garnier, Gianni Bini, Givenchy, H&M, Jets Blue Label, Jil Sander, John Richmond, Kenzie, Levi's, Liverpool, Mango, Marc Jacobs, Maybelline, Mermaid Sister, Neiman Marcus, Nicola Finetti, Nordstrom, Portmans, Prada, Prada Eyewear, Pronovias, Rag & Bone, Rock & Republic, Ruehl, Seafolly, Sephora, Shopstyle, Swarovski, Tigerlily, Tsubi, Uber, Veet, Victoria's Secret, Wonderbra, Xoxo.
Fashion Shows:
Ready-To-Wear - Spring/Summer 2005 { Alice McCall, Camilla & Marc, Jayson Brundson, Leona Edmiston, Lisa Ho, Mimco Collection, Third Millennium }
Ready-To-Wear - Fall/Winter 2005 { Heatherette }
Ready-To-Wear - Spring/Summer 2006 { Alex Perry, Bare by Rebecca Davies, Bettina Liano, Cohen et Sabine, Heatherette, Kate Sylvester, Myer, Nicola Finetti, Zimmerman, Victoria's Secret }
Ready-To-Wear - Fall/Winter 2006 { 3.1 Phillip Lim, Amuleti J, Baby Phat, Betsey Johnson, Blugirl, Evisu, Jason Wu, Joanna Mastroianni, John Richmond, Just Cavalli, Lela Rose, Nanette Lepore, Paola Frani, Project Runway, Sass & Bide, Sweetface, Trovata, Twinkle by Wenlan, Venexiana }
Ready-To-Wear - Spring/Summer 2007 { Akiko Ogawa, Alex Perry, Amuleti J, Baby Phat, Betsey Johnson, Blugirl, Cia.Maritima, Enrico Coveri, Esteban Cortazar, James Coviello, Jason Wu, Jenny Packham, Joanna Mastroianni, John Richmond, Just Cavalli, L.A.M.B., Lewis Albert, Nanette Lepore, Pamella Roland, Paola Frani, Pin Up Stars, Rachel Roy, Rock & Republic, Sabyasachi, Threeasfour, Twinkle by Wenlan, Victoria's Secret }
Ready-To-Wear - Fall/Winter 2007 { Baby Phat, Betsey Johnson, Chris Han, James Coviello, Jason Wu, Jenni Kayne, Nanette Lepore, Pronovias, Rock & Republic, Tracy Reese, Twinkle by Wenlan }
Ready-To-Wear - Spring/Summer 2008 { David Jones, Victoria's Secret }
Ready-To-Wear - Spring/Summer 2009 { David Jones, Victoria's Secret }
Ready-To-Wear - Spring/Summer 2010 { Balenciaga }
Ready-To-Wear - Fall/Winter 2010 { Balenciaga, David Jones, Prada }
Ready-To-Wear - Spring/Summer 2011 { Balenciaga, David Jones, Victoria's Secret }
Ready-To-Wear - Fall/Winter 2011 { Balenciaga, Liverpool Fashion Fest, }
Ready-To-Wear - Spring/Summer 2012 { Chanel, Christian Dior, John Galliano, Lanvin, Loewe, Stella McCartney, Viktor & Rolf, Victoria's Secret }
Ready-To-Wear - Fall/Winter 2012 { Chanel, Miu Miu }
Ready-To-Wear - Spring/Summer 2014 { Chanel, Stella McCartney, Vionnet }
Ready-To-Wear - Fall/Winter 2014 { Sonia Rykel }
Ready-To-Wear - Spring/Summer 20016 { Louis Vuitton }
Ready-To-Wear - Spring/Summer 2017 { Koradior, Moschino }