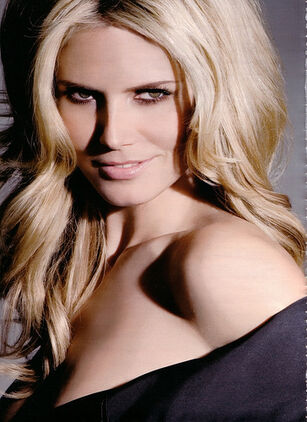 Heidi Klum info:
FULL NAME: Heidi Klum
COUNTRY: Germany
DATE OF BIRTH: June 1, 1973
PLACE OF BIRTH: Bergisch Gladbach, Germany
EYES: Hazel
HAIR: Blonde
OCCUPATION: Supermodel, Actress, Fashion Designer, Television Personality, Businesswoman, Producer and Occasional Singer.
Bio:
Heidi Klum is a German-American model, television personality, businesswoman, fashion designer, singer, television producer, and occasional actress. She appeared on the cover of the ''Sports Illustrated Swimsuit Issue'' and in 1999 became the first German model to become a Victoria's Secret Angel.
In 1992 Heidi won the contest "Model 92" and after finishing school in June 1992 she desided to pursue a career as a model. Her first modeling jobs were in Hamburg, then in Paris and Milan. A year later Heidi Klum moved to Miami and then to New York, where she has lived since October 1993.
In 1996 she established the Heidi Klum GmbH and took part in developing logo. It became her trade-mark and she secure a copyright on her name also.
In 1997 Heidi Klum walked the runway for the first time. It was the Victoria's Secret Fashion Show, which was one of the most press-heavy shows in the United States, and it catapulted her to more recognition from the public and to the next level as a top model. In summer she said yes to Ric Pipino and they were married till end of 2002. A year later, she became the first German cover girl of the "Sports Illustrated Swimsuit Issue". That means 55 millions of readers, and a big international breakthrough.
In 2001 she played her first small part in the comedy "BlowDry". Heidi played Jasmine, an eccentric hairdresser's model caught between rival brother hairstylists.
In the autumn of 2003 she became pregnant with Flavio Briatore's child. On May 4, 2004, she gave birth to a daughter, Helene "Leni" Klum, named after Klum's grandmother. Around the same time of the birth, Heidi began a relationship with musician Seal. Klum and Seal married on May 10, 2005, on a beach in Mexico. They had three children together - sons Henry and Johan, and a daughter Lou. On January 22, 2012, the couple announced that they were separating after almost seven years of marriage. Heidi filed for divorce from Seal three months later on April 6, 2012. Their divorce was finalized on October 14, 2015. Klum was in a relationship with her bodyguard Martin Kristen from September 2012 until early 2014. Since 2014, Klum has been dating Vito Schnabel.
Some noted fashion designers have long been commenting on Klum's limited role as a fashion model. Karl Lagerfeld, for example, in 2009 agreed with German designer Wolfgang Joop, who called Klum after she had posed naked on the cover of the German edition of GQ magazine, "no runway model. She is simply too heavy and has too big a bust". Lagerfeld observed that neither he nor Claudia Schiffer knew Klum, as she has never worked in Paris and was insignificant in the world of fashion, being "more bling bling and glamorous than current fashion." But besides walking the runways for Victoria's Secret Klum also managed to take part in a designer fashion shows, such as an Escada, Vera Wang and Zac Posen. She also took part in New York Fashion Week in 1999, walking for Victor Alfaro and Randolph Duke.
Klum is the muse of the fashion photographer Rankin and is often featured in his work.
Campaigns:
Victoria's Secret, Braun, H & M, Liz Claiborne, Jordache, McDonald's, Abercrombie and Fitch, Accessorize, American Express, Birkenstock, Bonnie Bell, Braun, Caress, Comma, Douglas, Ellen Tracy, Finesse, Gerry Weber, Givenchy 'Amarige' fragrance, Haribo & Katjes Yogurt Gums, Heidi Klum Intimates, INC, Jordache, Kathleen Madden, Lancaster, Liz Claiborne, Newport News, Nike, Nine West, Otto, Philosophy, Rosner jeans, Sharper Image, Tommy Hilfiger, Victoria's Secret, Zeki Triko swimwear
Fashion Shows:
Ready-To-Wear - Spring/Summer 1997 { Structure Underwear, Victoria's Secret }
Ready-To-Wear - Spring/Summer 1998 { Vera Wang, Victoria's Secret }
Ready-To-Wear - Fall/Winter 1998 { Elena Nazaroff }
Ready-To-Wear - Spring/Summer 1999 { Escada, Victoria's Secret }
Ready-To-Wear - Spring/Summer 2000 { NYC 2000, Victor Alfaro, Randolph Duke, Victoria's Secret }
Ready-To-Wear - Spring/Summer 2001 { Victoria's Secret }
Ready-To-Wear - Spring/Summer 2002 { Victoria's Secret }
Ready-To-Wear - Spring/Summer 2003 { Brown Thomas, Victoria's Secret }
Haute Couture - Spring/Summer 2003 { Philipe Treacy }
Ready-To-Wear - Fall/Winter 2003 { Catherine Malandrino }
Ready-To-Wear - Spring/Summer 2004 { Imitation Of Christ, Zac Posen }
Ready-To-Wear - Spring/Summer 2005 { Victoria's Secret }
Ready-To-Wear - Spring/Summer 2006 { Liverpool Fashion Fest }
Ready-To-Wear - Spring/Summer 2007 { Victoria's Secret }
Ready-To-Wear - Spring/Summer 2008 { Heart Truth, Victoria's Secret }
Ready-To-Wear - Spring/Summer 2009 { Victoria's Secret }
Ready-To-Wear - Spring/Summer 2010 { Heart Truth }