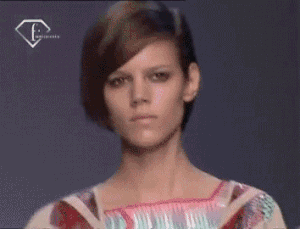 Freja Beha Erichsen born (October 18th, 1987) in Roskilde, Denmark, is a Danish model. She also goes by Freja Beha. She has been desribed as androgynous on various occasions and by a variety of people. She is ranked #2 on Models.com.
Freja was discovered on the streets of her Native Denmark by an agent passing by in a taxi. She was scouted and in 2005, she appeared in the Fall Paris and Milan shows for Prada, Louis Vuitton, and Miu Miu. Erichsen has walked for Chanel, Dior, Gucci, Burberry, Alexander Wang, Prada, Balenciaga, Christian Lacroix, Zac Posen, etc.
Freja has over 15 tattoos. Her agent and her made a deal that she could get as many tattoos as she wanted as long as she didn't cut her hair. After Freja's career took off and she became established, she preceeded to cut her hair.
Her tattoos include the phrase "Serendipity is Life" written on the back of her upper right arm. She has a revolver on the inside of her right arm, the word "float" written on the side of her neck, an inverted triangle on the back of her neck, a circle behind her ear, a cross on her earlobe, "This Too Shall Pass" on the inside of her right arm, "The World Tonight is Mine" on her wrist, "Redemption" on her left forearm, 3 circles on her wrist, a star on the middle of her torso -around the middle of her ribcage-, and a lightening bolt on her upper torso.
Erichsen has stated that the tattoos are easy for her to conceal during shows and shoots.
Personal Life
Edit
On several occasions, Freja has been seen intimate with other women. Her relationship with fellow model Abbey Lee Kershaw has been speculated, although Abbey has a boyfriend. bie