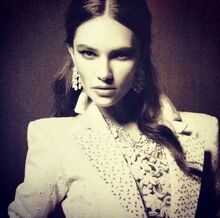 Information:
FULL NAME:Ana Lucia Wood Rivera
COUNTRY:USA
DATE OF BIRTH:March 15,1991
PLACE OF BIRTH:Los Angeles,California
EYES:Brown
HAIR:Blonde:(natural brown)
HEIGHT:1,77 (5'9)
WEIGHT:54 kg (119 pounds)
MEASURMENTS:34-23-34 (86-85.5-86)
OCCUPATION:Model
Biography:
Ana Lucia Rivera is an American fashion model. She began modeling when she was a little girl. But from 1998 to 2006 she took a break to be able to dedicate herself to education, which for her was always a priority. Ana debuted at the Moschino Cheap & Chic fashion show in 2007 and so far she has walked on more than 200 runways. She was named one of the top 10 models of 2007 by V alongside Russian model Irina Kulikova. She appeared in the Adam Lambert video, "Ghost Town," in which she dance.She works for Victorias's Secret since 2015.
Campaings:
Mark Eisen, Little Woods, Shop 126, Shirt Passion, Rugby, Only, Jimmy Choo,Guess, Mochino, Versace, Public School,Arden B, XOXO,Blanco, Voodoo Dolls, Brian Atwood, Osoris, Nike, Chanel......
Magazine Covers:
Vogue Kids Paris (1997,1998,1999), Tantalum Double Cover (2011), Fuel (2013), Runway France (2013),Elle Beauty (2015), Vogue Gioello (2016), Vegue (2016) Tatler (2017), 10 Magazine (2017) , 25 Magazine (2017) , Lush Magazine (2017), Vogue Beauty Japan (2017), Vogue Gioello-3 covers (2018), Composure (2018)......
Fashion Show:
Moschino Cheap & Chic, Sass & Bide, Bottega Veneta, Ruiz De La Prada, Veuve Chiqout, XOXO, Dries Van Noten, Belstaff, Valentino, Ter Et Bantine, Rushkin,Twinkle By Wenlan, Carolina Herrera, John Galliano,Candace Couco, Silhoutte Brand, George Styer, Atelier Nicola D'Errico, Chanel, Victorias's Secret Fashion Show, Porst 1961 ,Enrico Cover, Trussardi....
Facts;
-Ana Lucia is also a talented and award-winning jockey and in her spare time she is riding her horse at the family ranch who is out of Los Angeles.
-Ana Lucia Rivera was earning $9,763 for a day's work when she was 16.
-She is daughter of Alexandar Rivera and Victoria Wood.
-Ana Lucia belongs to an American family of Spanish origin.
- Ethnicity: American [Ducth, Russian, Spanish].
-Origin of her family Rivera is from Las Palmas, Spain.
-She have older brother Hayden (February 19,1990).
-On June 30, 2007 her parents died in the car accident. She and her older brother are adopted by her aunt - father's sister.
-In 2010 she danced on the Glam Nation Tour by Adam Lambert.
-In 2011, she won one of the antagonistic roles in "The Four Women of Juan" by Telemundo with Jencarlos Canela and Gaby Espino, but the project was never realized.
-In 2012, two weeks after her 21st birthday, she had a brutal accident. A drunken driver hit her with the car when she was crossing the street. For the accident she had sometimes she still suffers of pain in her neck and spine.
-In October 2012, she met her husband with whom she married in June 2013.
-She graduated from the Graziadio Business School in 2016.
-She supports baby2baby (charity organization), Feeding America, (nonprofit organization), and St.Jude Children's Hospital.
-She won Best Model Award in 2008,2017 and 2018.
-In 2016 she is named the sexiest model by Composure Magazine.
-In 2017 and 2018 she was number one on the list:World Most Beautiful Faces by Lush Magazine.